[Start Here] Power BI - This is how we use it. Part 1: The basics.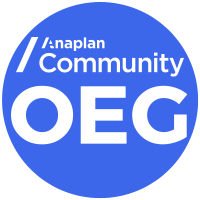 Welcome to the best practices series about the Anaplan Connector for Microsoft Power BI. This is the first of a three-part series designed to help you understand why and how to use the Power BI connector by covering the basics, the set-up, and a real use case.
Let's begin with Part 1: The Basics.
What is the connector for Power BI?
The connector for Power BI allows you to self-service data visualization and analytics with Anaplan data using Power BI. The connector for Power BI allows you to:
Seamlessly access Power BI by natively integrating Anaplan data into Power BI
Self-service and generate data visualizations independently without requiring technical expertise
Enhance your Anaplan data with Power BI reporting
Who is it for and why?
There are two key personas who will benefit most from the connector for Power BI:
Analysts, who can connect, prepare, and model data as well as create self-service dashboards and reports. They can derive deeper insights and share them across the organization to assist with agile decision-making.
Decision-makers, who will access, view, and decipher up-to-date reports and dashboards to synthesize insights that drive timely and informed decisions.
Use case examples?
The connector for Power BI has a wide range of use cases. Below are just a couple of examples of how some organizations may leverage it.
Dataset integration: It can be challenging to validate reports coming from different sources, especially when data is not structured in an accessible format. With the connector for Power BI, users can generate side-to-side visuals and data representation to better compare data sets, enhance planning accuracy and productivity.
Real estate asset management: Real estate portfolios are constantly evolving, and as they expand, they need to better leverage new volumes of data to track, report, and analyze asset types, value, and fees in an easily understood format. Through the connector for Power BI, users can leverage the best of Anaplan and Power BI to enable reporting at scale with data visualization and dashboards well into the future.
Guidelines and considerations
As you are getting ready to use the Anaplan Connector for Power BI, consider:
The connector allows users to select the Anaplan export action and run it. Export actions must be defined in Anaplan prior to reading data from an object.
Bi-directional data transfer is not supported. Anaplan Connector for Power BI only supports exporting data from Anaplan to Power BI.
The connector only interoperates with Power BI
The connector supports Anaplan file downloads up to 1 GB in size
If a user needs to load a larger volume of data from Anaplan, break it up into multiple export actions in order to keep each export less than 1 GB in size.
Ready to begin leveraging the Anaplan Connector for Power BI?
Let's move on to Part 2: the Setup.
Contributing authors: Pavan Marpaka, Chanaveer Kadapatti, and Christophe Keomanivong.
Comments