UX transition workshop: Anaplan Live! 2022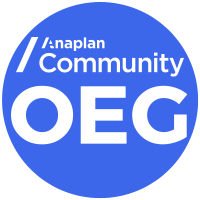 In this article, you'll find UX transition key insights and actionable takeaways to apply in your specific context. As shared during Anaplan Live! 2022, we've curated a list of recommended resources from across Community to provide a consolidated view to support your UX transition journey. 
Refer to the attached presentation (see Attachments at the bottom of the article) for a detailed view of shared insights, including a Persona Building Kit and a deeper look at the consolidated resources mentioned here. 
Key takeaways
Understand
Sketch
Execute
Follow the Best Practices ​
Repeat
Was this guidance helpful? Let us know your thoughts in the comments below.
Contributing authors: Russ Goza, Andrew Martin, and Ebonee Sawyer.
Tagged: