Leverage the dashboard import tool to migrate from Classic to UX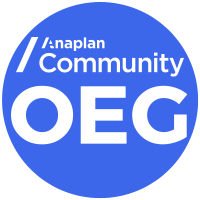 If your organization is currently utilizing a suite of classic dashboards, it is well worth looking to migrate your front end to the Anaplan UX. Not only will the modern, fresh looking presentation of the UX greatly enhance the experience for your end users right now, migrating will also provide you with the base from which to leverage Anaplan's ongoing investment in many more new features to come.
If you have a substantial classic estate of many tens or even hundreds of dashboards and perhaps across multiple models and workspaces, this might seem a daunting prospect. Indeed, it should be afforded the status of a managed project to give the move due attention and maximize the benefits that can be achieved.
An important thing not to try and do is simply 'lift and shift,' even if your classic dashboards are working well. This is a good opportunity to review your existing processes and to assess whether the new features and paradigms of the UX can improve them.
Before embarking on the migration
Start with the U.S.E.R methodology.

Are there any problem areas that could be revisited and improved upon?

Can targeted apps in the UX, which can draw pages from multiple models together, help to streamline and improve the experience for particular user personas in your user community?

Familiarize yourself with the difference in layouts between a classic dashboard and a UX Board or Worksheet, and design accordingly.

Are there any features that you are using in Classic that are not directly replicated in UX? These may require a different approach to achieve the same things.

Will the security model need to be revisited?
Once you have a plan, there is then the job of building out your apps, which can be a substantial undertaking for large deployments. Despite some potential redesign work, there are likely to be many grid views, charts, and text objects that remain valid and that you want to replicate in the UX.
Fortunately for those items, we have a tool to help speed up this process.
The dashboard import tool enables you to import classic dashboards as board pages and can accelerate your transition to the UX.
In a nutshell, you choose the source workspace, model, and the dashboard that you want to import. Seconds later you have a new page in the UX with a rendition of your classic dashboard in the edit mode of a brand-new board. You can then set about rearranging and amending at your leisure, make copies, etc. You can also consider saving cards as templates to help with any redesign and expansion. You could build a board with lots of cards made from your saved template library for use on other pages.
Other important notes
Only boards are created this way. It could well be that you have brought over a dashboard containing large grids of data with many rows and columns. In general, worksheets provide for the consumption of, and interaction with, large data sets better than boards. In these scenarios, you can just delete them from your imported boards and recreate them in worksheets.
The cards on an imported board are based on custom views, which means that you can take advantage of the extended conditional formatting and future UX developments. However, in specific circumstances, you may be better off using a module view. If you will be re-using the view in many places and wish to be able to make central changes to it and have all associated cards update, then you will need those cards to be based on module views.
The way that the context in classic is translated by the import is something you should be aware of. This image shows what happens. You can always change it after the import.
The layout of a board in UX is different from that of a classic dashboard. This means that for some dashboards the import may not result in a layout you expect. Boards can contain an unlimited number of rows. Each row on a board can contain up to six columns and each column can contain up to four cards. On dashboards, rows can contain more than six columns and columns can contain more than four items. As such, some dashboard layouts might not be supported when you import a dashboard as a board.
Learn more.
The following objects are not supported: action buttons, images, published lists and line items, subsidiary views, and certain charts (see Anapedia). These features will need to be re-created in the UX or re-designed so that the business function can be effected in a different way.
While many editable customizations are retained during the import, some are not. For example, you may need to change the colors used for conditional formatting (see Anapedia).
Have you already used the dashboard import tool? Excited to try it?
Let us know your thoughts in the comments below.
Contributing author Andrew Martin.