Anaplan Extensions: Building Reports in PowerPoint to Present User Stories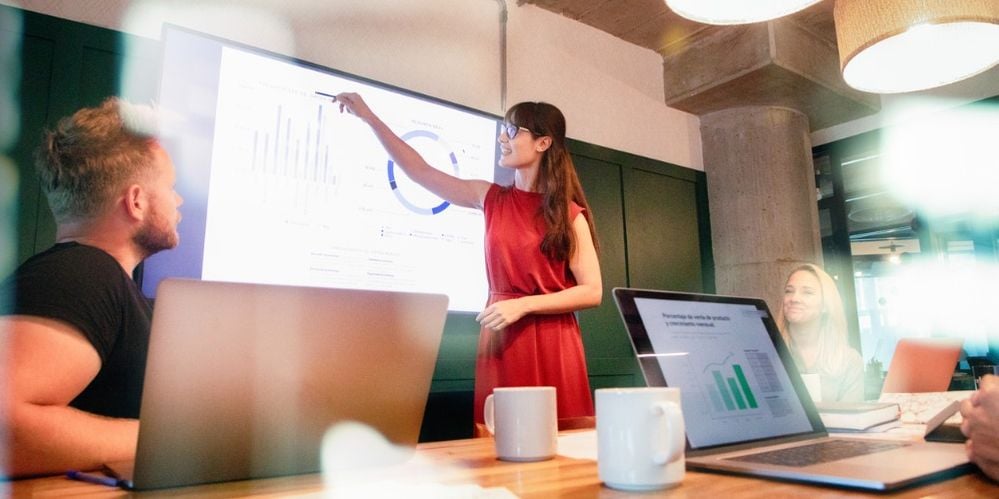 Recently, I interviewed Jared Dolich, a Principal Consultant at Columbus Consulting, about his clever use of Anaplan Extensions as a consultant in an Anaplan implementation project.
Q: Tell us about yourself and your Anaplan journey
Well, first, Magali, thank you for your interest! It means a lot to me to have the opportunity to share some thoughts I have about Anaplan Extensions, a project you've taken to a whole new level. My journey to becoming a Master Anaplanner is intricately weaved together with all your accomplishments with these extensions. Even in the retail industry, Excel and PowerPoint have an integrated and necessary function with Anaplan.
It's no surprise to those that know me: I'm a retail industry addict. I was trained to become a chemical engineer, which didn't work out so well after I nearly blew up a parking lot (and all the cars in it) with a chunk of pure sodium and a beaker of water, and then an actuarial scientist, which didn't work out either after I realized 4:55 p.m. in the insurance industry meant you had to pack up and go home; but, meh, who cares about all that when there's a whole dynamic, exciting industry right in front of us yearning for analytical help! All I did was combine my love for retail and the joy I find in unraveling a business challenge in one place – Anaplan.
Q: How did you learn about Anaplan Extensions?
All the information can be found on the Anaplan Extensions page. @MagaliP, the Product Manager for Extensions, is quite possibly the deftest marketer I've ever met. Excellent communication, interviews, blogs, videos, social media announcements, training, use cases, and invitations to join the development. Oh, did I mention all your marketing content is original work? Magali, you make it fun and I subscribe to all your posts.
Q: What problem are you are trying to solve with Anaplan Extensions?
Ah, right then… down to business. This problem should make our good friend Alessio Pagliano, a Master Anaplanner and one of the first Community members, very happy, as it is a use case for why we need to use VBA for Excel (or PowerPoint) to automate our actions.
As an Anaplan partner, I need the ability to collect the user requirements, bundle them into user stories and epics, organize them into sprints, and (here's the important part) I need the ability to professionally present the stories being implemented in the current sprint to the stakeholders of the project.
As a project stakeholder, I want a professional-looking presentation of all the user stories and the status of each for our weekly sprint review. I also want to see a graphical summary. I know it is right when it takes five minutes or less to prepare.
The PowerPoint slide template is different for every company, which is why you need to use VBA for PowerPoint to map the values to the right objects. Here is one for the Unicorn Candy Company:
Q: How did you configure the Office add-ins?
Now that we can access saved views since version 3.2, it is so much easier to get the output data exactly as we need it in Excel. My process is straight forward.
For the user story details module, I use the Excel add-in, link the Excel data into my PowerPoint slide template, and then use a VBA automation to duplicate the slide:
Open Excel and log into Anaplan through the newest version of the Excel Extension (currently 4.1 as of this blog post). You can find all the features here and download the Excel add-in here.
Retrieve the latest data from Anaplan by creating a connection to a saved view.
Save the file as CSV format.
Run the PowerPoint VBA Macro that generates a separate slide for each user story.
For the scoring summary for the charts module, I directly use the PowerPoint add-in:
Open PowerPoint and log into Anaplan. Version 1.7 is the latest as of this blog post. Find the features and download the PowerPoint extension.
Create the connections and then the charts, or if they are already created, just refresh the graphs.
This whole process takes about one minute. The longest part is generating the user story slides, which generate at about three slides per second.
The PowerPoint add-in has lots of chart choices. Just remember that for column charts, what is in the columns will show up in the x-axis.
Note that VBA cannot automate add-in actions, like refreshing the data. You may want to vote for this suggestion on the Idea Exchange.
---
More About Extensions
---
Q: What benefits do you see with the Excel and PowerPoint add-ins?
Anyone that has created PowerPoint presentations where a separate slide is needed for each story knows the dread and psychological distress associated with such a task. These extensions allow me to keep all the planning data in Anaplan and use the benefits of PowerPoint presentations to visualize the data in a way executives and stakeholders are used to seeing it. And it's FAST!
Q: What is the right balance between what goes into Anaplan's UX versus Extensions?
Good question and very subjective, as you might imagine. I like to collaborate with the stakeholders and balance the effort of three dimensions:
Modeling and/or programming.
Data gathering and cleansing.
Change management, which includes any support/administration.
Sometimes the value of having more flexibility in Excel and PowerPoint outweighs the value of trying to keep everything in the UX, while other times the effort outweighs the value, and leaving the visualizations and analysis in Anaplan is a better option.
Q: What is your recommendation in regards to using Extensions?
I would give a crisp salute and a nod of encouragement to anyone considering these extensions. After all, the extensions are options to help enable a process. I use them all the time and they just keep getting better. Any time you encounter a situation where you need to iterate on the data, as you would with a "for" loop or a "do while/until" loop, you're looking at a high probability of needing to use something outside of Anaplan and Anaplan Extensions are an excellent choice. In addition, when you just need a little more flexibility with the reporting functionality that isn't readily available in the UX, Anaplan Extensions can fill in the gap handily.
Q: Any Master Anaplanner tips?
Try to keep your solutions as simple as possible and tether yourself closely to the Anaplan Best Practices. I frequently fight back my desire to overly impress with flourishes and embellishments. While great for marketing, they often are only incremental to the value-add. As David Smith, one of the great Master Anaplanner founders, often wrote, "just because you can, doesn't mean you should."
---
More About Jared
Jared's passion for retail traces back to his high school days when he sold cinnamon toothpicks to his classmates and when he learned firsthand the concept of inventory management, cost of goods sold, and how to make a tidy profit. After being introduced to retail planning solutions as a buyer at Target Stores, he's been on a personal journey ever since to help retail practitioners reach their potential by using software solutions that effectively enable their processes. Recently named a 2021 Master Anaplanner, Jared provides retailers, wholesalers, and eCommerce planners the rigor, training, and positive thinking needed to help them fully optimize their Anaplan platform. Prior to joining Columbus Consulting, a consultancy focused on the retail industry, Jared was a retail IT executive for Target, Tuesday Morning, Payless, and Ascena.
Tagged:
Comments