calculate values from modules with different dimensions but with same ancestor list
Hi,
This is my first post so I hope the example will be clear.
I have a 'Customer Hierarchy' list and a 'Product hierarchy' list.
Both lists have the same parent hierarchies (see print screen 1 below)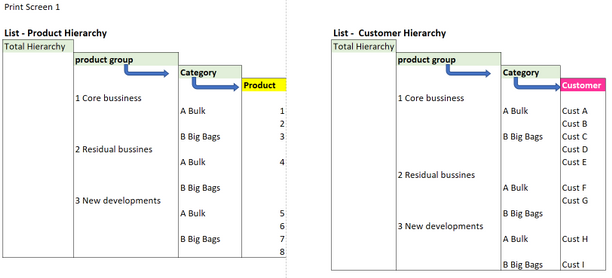 Now I have a Sales module with the customer hierarchy as dimension and 2 line items (sales volume, product)
The product line item is formatted as list products (see printscreen)
I would like to create a new module with products as a dimension.
This module should calculate the sales volumes per material (retrieved from the Sales Module).
It should look like:
However I did not  manage to do this due to the different dimension issues and the 2 list having the same ancestor.
Could anyone help me how I could solve this?
I added print screens with the existing modules (simplified) and desired module.
Thanks in advance for your help
Jo
Tagged:
Answers