[Start Here] - Management Reporting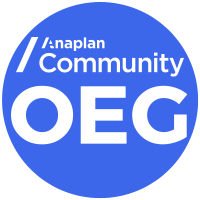 Welcome to this article on Management Reporting, our exciting new feature for the UX!
Ready? Let's go!
What is Management Reporting?
Management Reporting allows you to create highly formatted, customized slides to deliver key insights and clear reporting to your organization using the new presentation mode in platform. With the flexibility of Report pages, quickly convert presentations into multi-page PDF packs and share those key metrics with all stakeholders.
What does Management Reporting do?
This new feature is a game-changer:
Report at the speed of the business: Never miss a beat with structured reporting, Management Reporting is always in sync with your Anaplan data
Convey your point clearly and effectively: Bring your data narratives to life with Management Reporting custom formatting, styling, and visualizations
Tailor the right reports for your audience: Enjoy the freedom and flexibility to customize repeatable reports for stakeholder and business needs
Who is Management Reporting for?
There are two key personas who will benefit most from Management Reporting:
Page Builders, who can connect, prepare, and model data as well as create self-service dashboards and reports. They can derive deeper insights and share them across the organization to assist with agile decision-making.
Decision-makers, who will access, view, and decipher up-to-date reports to synthesize insights that drive timely and informed decisions.
When to use Management Reporting?
Here are some examples of how we use Management Reporting.
WHAT

HOW

BENEFITS

Board & Management Presentations

Create multi-page report packs

Deliver executive ready presentations to drive decision-making with connected plans and insights

Strategic Initiatives

Present live reports

Increase collaborative decision-making without waiting for report distribution
Distribute standardized reports to individual stakeholders

Flash reports

Ready to go self-service reports

Summarize key performance indicators reporting
Quickly address emerging trends
Ready to begin your Management Reporting journey?
[NEW - Nov 2021] Take the e-learning class!
Or watch this video walking through an example of how you can use key features of Management Report pages; we also added a downloadable .pdf (in the attachments) to facilitate your experience as you are reproducing the steps in the video, check it out!
You can also go the Anapedia page for detailed steps on how to create your Reports.
Now that you have the hang of it, look at our more advanced content:
Are you ready to use Management Reporting in your Planning process?
Found this content useful? Got feedback?
Let us know in the thread below.
Contributing authors: Steve Prendergast, Elizabeth Schera, William Hsieh, and John Valentine.
Tagged:
Comments