Count in numbered list
Hello everyone, 
I am facing a problem in counting the same names in numbered list. Let me explain with pictures,
I have a numbered list :- Style. In this list, every member has different code but multiple members has the same Display name property as shown in the picture below.
I have a module "Module M1", where this list is used as dimension and I have two line items, 1. Boolean1, 2. Count.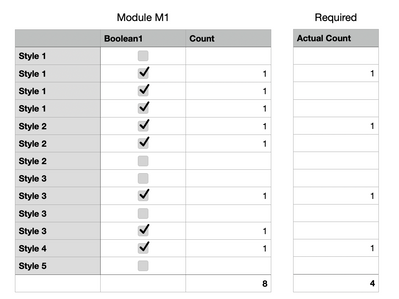 Boolean1 is true for many styles which have same name but I want to count them as only 1 if they have same name as shown in the picture "Actual Count". I have tried firstoccurrence formula but it ignores the styles if its first occurrence in the list doesn't have Boolean1 - true. I have tried RANK formula in two other line items like one with sequential rank and other with minimum rank, compared them but it didn't work. These two line item didn't show the same values so that I can compare them and use IF ELSE statement.
Have a look at this problem and share your solution. Your help will be much appreciated. 
Thanks!
Shubham
Tagged:
Answers