HyperConnect / Informatica Cloud (Training Course)
Course Objectives
Where to find more resources about Informatica
An overview of HyperConnect
Demonstration of how to install the secure agent 
Demonstration of how to setup connections
Demonstration of how to setup Data Synchronization
Resources
There are two resources you can use when working in HyperConnect. 
Anaplan Community
Informatica's Help

There are also a number of resources available on the 

Informatica Cloud website

. The video below reviews what is available as well as where to locate it on the site.
Video:  Locating and using Informatica help resources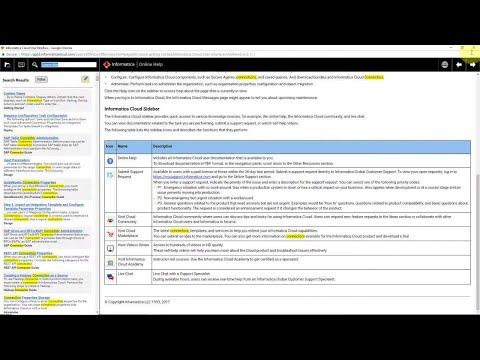 https://www.youtube.com/watch?v=P8CaGMd2jyk


HyperConnect Overview
This 3:16 video reviews:
The difference between HyperConnect and Informatica Cloud
How scheduling works in HyperConnect
What the secure agent is
The main integration scenarios
The Secure Agent
The first thing that needs to be done before utilizing Informatica Cloud is to install a secure agent. The Informatica Cloud Secure Agent is a lightweight program that runs all tasks and enables secure communication across the firewall between your organization and Informatica Cloud.
When the Secure Agent runs a task, it connects to the Informatica Cloud hosting facility to access task information. The Secure Agent connects directly and securely to sources and targets, transfers data between them, orchestrates task flows, runs processes, and performs any additional task requirement.
Detailed Secure Agent information can be found on Informatica's help pages. 
Demo Secure Agent Setup
Connections
A connection enables you to access data from cloud and on-premise applications, platforms, databases, and flat files. Use connections to specify the location of sources, lookups, and targets included in a task.
You can create a connection for connectors that are installed in Informatica Informatica Cloud. Many connectors are pre-installed, however you might want to use a connector that is not pre-installed. Add-on connectors created by Informatica and Informatica partners are available for installation.
More information about connections can be found in Informatica's Online Help. Below are three demonstrations showing connection setup.
Demo Connecting to Anaplan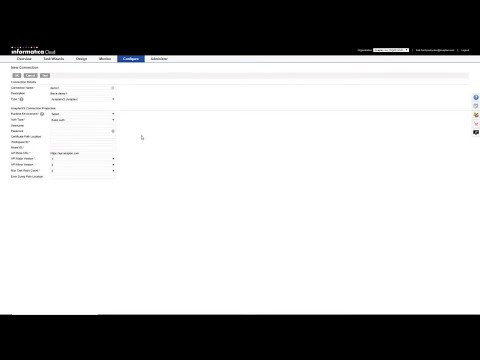 https://www.youtube.com/watch?v=HCEbmhtWUJQ

Demo Connecting to Salesforce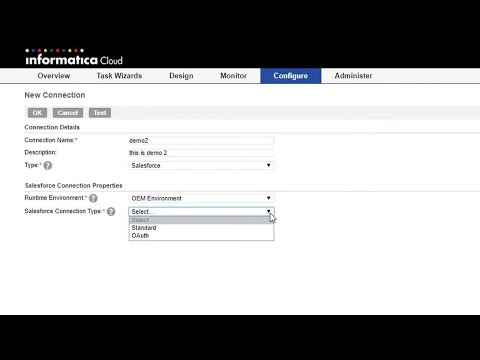 https://www.youtube.com/watch?v=jHu2F8Q0zNg

Demo Connecting to MySQL
Data Synchronization
You can configure a Data Synchronization task using the Data Synchronization Task wizard. The wizard allows you to synchronize data between a source and target. For example, you can read sales leads from your Anaplan sales model and write them into Salesforce. You can also use expressions to transform the data according to your business logic or use data filters to filter data before writing it to targets.
You can use a single object as a source or multiple related objects as sources in a Data Synchronization task. You can also use multiple objects for database connection types. Define relationships based on key columns or create a user-defined join condition.
You can use a single object as a target for a Data Synchronization task. The target connections that you can use depend on the task operation you select for the task. Remember that Anaplan must be either the source or the target to use HyperConnect.
More information on the Data Synchronization Task Configuration can be found in Informatica's Online Help. Below are a few demonstrations showing the setup of different data sync options. 
Demo Sync SFDC to Anaplan
Demo Sync Anaplan to SFDC
Demo Sync MySQL to Anaplan
Automating the error dump
This 3:46 video shows how to set up a task flow in Informatica Cloud. This task flow automatically sends the result of an error dump to a flat file or database.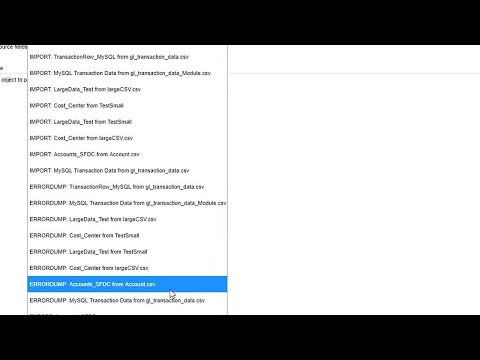 https://www.youtube.com/watch?v=QlpbBs8RKtc

Advanced training coming soon!
Thank you for taking this introductory course. Advanced training is currently being created so subscribe to this page for updates and changes. In the meantime if you have questions not covered in this training email [email protected].
Answers