Evolve your Anaplan ecosystem with enterprise governance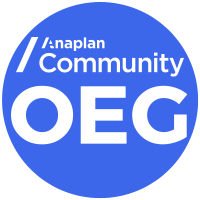 In this article, you'll find resources to support evolving your Anaplan ecosystem with enterprise governance. This broad topic was covered in depth during Anaplan Live! 2022 — including focused discussion on Centers of Excellence; model governance; workspace architecture; data hubs and data integration; build and maintenance process governance; and user security. 
Refer to the attached presentations (see Attachments on the right-hand side) to learn more about how enterprise governance can benefit your organization. Then, check out the recommended resources below by topic.   
Center of Excellence
Model Governance
Workspace Architecture
Data Hubs
Data Integration
Build & Manage
Security
Was this guidance helpful? Share your feedback and questions in the comments below. 
Contributing authors: Ryan Kohn and Kyle Welling.
Tagged:
Comments